Discover more from The Daly Grind
Observations from a lone-wolf writer of thrillers and humorous truths.
Welcome to the Daly Grind
Author John A. Daly's newsletter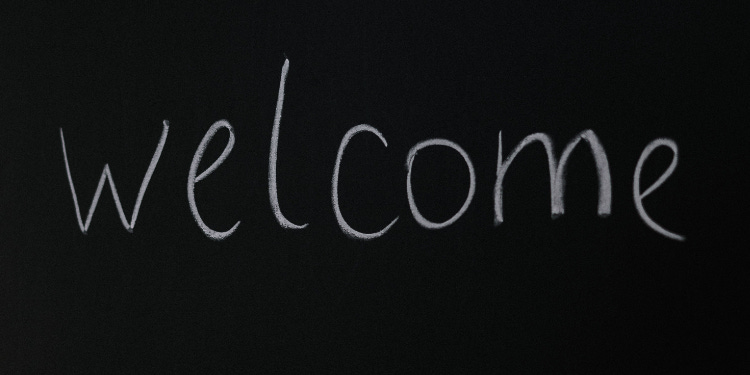 Hi everyone.
This is John A. Daly, author of the Sean Coleman Thriller series.
Most of you receiving this email subscribed to my MailChimp newsletter (from my website) at some point, and have received occasional messages from me regarding my books (release dates, awards, events, etc). After 8 years, I've decided to move over to Substack for my newsletter, because the emails are cleaner, and the platform is easier to use. It's also a good opportunity for me to start putting out some fresher, funner content for subscribers (not just book marketing stuff, and no longer in that weird third-person format I'd been using for emails).
To those of you who've just signed up, welcome! It's great to have you aboard.
The Daly Grind
What's The Daly Grind? you may be asking. I decided to go ahead and give my newsletter a name, just for some flavor. When you have a last name like "Daly," it's easy to play off the word. As I wrote above, I plan to expand this newsletter beyond book marketing, to include some humorous observations, life experiences, and thoughts on things like art, music, travel, society and culture, etc. — sort of a "grind" of genres. I hope you enjoy it.
Humorous observations? What the heck are you talking about?
Another good question. Let me explain:
As a storyteller (which actually pre-dates my work as a writer), I think I've always had a knack for observation. My eye tends to pick up on things — things a lot of people normally wouldn't pay much attention to — and wonder what kind of story is behind them. Sometimes it's a person, in how they look or how they're acting. Other times, it's a place… or a situation… or an object. Such musings, at times, inspire ideas that actually make it into my writing.
The other night, for example, my wife and I decided to take our dogs for a walk. We usually either stick to the neighborhood or the path behind our house. But that night, we figured we'd try something different: a paved path a few miles away, along the Poudre River. We parked our car on the side of a dirt road, guided our dogs onto the pavement, and walked them for a couple miles. Around the half-way point, we came across this monument marker: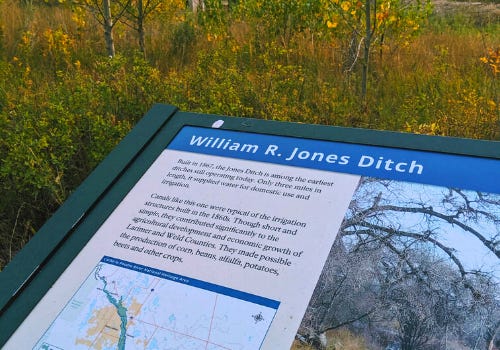 The William R. Jones Ditch.
Now, we've all seen streets named after people. The same is true of parks, rivers, lakes, bridges, towns, and lots of other things. But I'm pretty sure this was the first time I'd ever seen a "ditch" dedicated to an individual. I found the premise rather amusing.
To be clear, I'm not suggesting that ditches be recognized as objects of ridicule. To the contrary, I'm actually quite fond of them. I very much enjoyed playing in and around ditches when I was a kid. They certainly serve a purpose, and those of you who've read my books might recall that a ditch is where we were first introduced to Sean Coleman (he was lying in one as he woke up from a drunken stupor). In fact, the title of that book, From a Dead Sleep, could have just as accurately been called "From a Dead Sleep in a Ditch" (though that wouldn't have rolled off the tongue quite as easily).
Still, I feel like Mr. Jones deserves something better — something more grandiose. He was clearly a man of some importance to even have his name recognized in such fashion. And as far as ditches go, he could have certainly done worse. According to the sign, this particular ditch is three miles long, comes off a major river, and has been in active operation (for irrigation purposes) for the past 186 years. It's also fairly wide.
And yet… it's still a ditch.
So, here's my idea: "The William R. Jones Canal."
It would make perfect sense, especially being that the verbiage on the sign actually switches over to the term "canal," in its description of the waterway, part way through. Why not take it all the way home, and give Mr. Jones his proper due? It's time.
On a side note, if anyone's ever interested in naming a ditch after me, I will allow it.
What else is new…
Like the rest of you, my family and I have been adjusting to the everyday challenges of navigating through a global pandemic. I won't get into the aggravating details (we all have our stories to tell on that front). Instead, I'll focus on a positive: I've been hard at work on the next Sean Coleman Thriller.
This will be book #5 in the series, and I'm very pleased with how it's shaping up. I've introduced some quirky new characters, as well as brought back some old favorites. The book has no title or release date yet (like I said, I'm still writing it), but I'll let you know once I have that information.
In the meantime, how about a few exclusive hints (below) on the story?
It doesn't take place in Colorado; Sean hits the road.

One of the returning characters hasn't been around since book #1 (From a Dead Sleep). She makes her long-awaited return, and is a pretty big part of the story.

Another returning character was last seen in book #3 (Broken Slate). I'll give you a hint as to his identity: POP! (If you think you know who I'm talking about, let me know by leaving a comment):
In my next newsletter, I may include an excerpt from the upcoming book, as an added bonus.
Anyway, I'm going to go ahead and sign off for now. Thanks again for subscribing to my newsletter. I hope you enjoy what's to come. And if you think some of your friends might enjoy the content, please forward this email to them.
Take care!
~ John