Discover more from The Daly Grind
Observations from a lone-wolf writer of thrillers and humorous truths.
Clownin' Around
The return of the most bizarre character I've ever created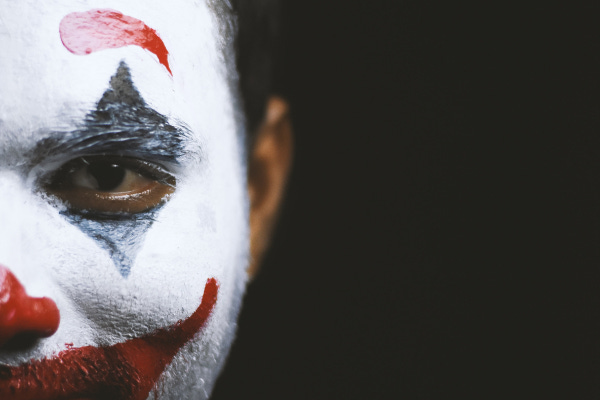 As I've mentioned in previous newsletters, I've been hard at work on the next Sean Coleman thriller. My goal is to have the first draft completed before the end of this year, but we'll see.
Just between you and me, I would have loved to have made faster progress on this one, but 2020 has put forth some unique challenges for writers. One might think that being compelled (in some cases, forced) to spend more time at home would actually help a writer focus more closely on his or her work. Maybe that's been the experience for some individuals, but for me it's made things more complicated.
You see, I like to immerse myself in my writing, and avoid potential distractions. I never write to background music (it diverts my thinking), and I often even close the blinds in my office, just to keep my eyes from wandering from my computer monitor. If one of our dogs is barking at something in the backyard, or a phone is ringing, or the mailman is delivering something on our front doorstep, it drags me out of the writing zone.
Sometimes, recovering isn't terribly hard. Other times, it's pretty difficult. So, when one's entire family is at home many more hours of the day than usual (as has been the case with mine and countless others since March), it does unfortunately hinder the writing process. It's no one's fault, of course — especially not my lovely wife's (which I need to emphasize since she reads this newsletter). It's just the nature of the beast… that "beast" being a once-in-a-century (hopefully) global pandemic.
The good news is that the quality of my writing hasn't been adversely affected (at least I don't think it has). Just the speed. Still, as I work to finish Sean Coleman #5, I've decided to take a little extra time, especially with the creation of the Daly Grind newsletter, to start dropping an occasional teaser for what readers are in store for (without giving away any major plot details).
Today's teaser is the announcement of the return of perhaps the Sean Coleman Thrillers' most bizarre (and maybe even most memorable) supporting character: Dustin Bouche (aka Dusty the Clown).
Dusty was introduced to readers in Broken Slate (book #3 in the series), and his comical exchanges with Sean amounted to some of the funnest dialogue I've ever written.
My editor told me multiple times, throughout the first round of editing Broken Slate, just how unique and surprisingly complex she found Dusty to be. I was glad to hear that, because I believed I had given readers something particularly intriguing with this fellow — a man who has either lost his mind or is consciously in-character, trying to adapt to societal surroundings that he's chronically uncomfortable with.
Unbearably irritating at times, and deeply sympathetic at others, Dusty became an instant favorite of Sean Coleman fans. I'm confident readers are going to love his triumphant return in book 5.
To celebrate, here's an excerpt from Broken Slate — the scene in which Dusty and Sean meet for the first time. It's safe to say that they don't initially hit it off:
The moment Sean opened his mouth to answer, a deafening pop burst directly behind his head. A jolt of adrenaline shot through his body and he quickly spun around, eyes bulging and heart racing, to find a stocky man with a round face and a larger-than-life smile staring back at him.

He was a young guy, probably around twenty, with a dark mop of hair and a pencil-thin mustache. He held the torn and shriveled remnants of a red balloon in his chubby fingers and erupted into obnoxious, almost hideous laughter that came from the very depths of his stomach. His bewildering amusement seemed to be at Sean's expense.

It pissed Sean off. His hand reflexively shot up under the man's multiple chins and clenched his throat. With a squared jaw and steam nearly blowing out his nose, he squeezed the man's neck until his eyes bulged and the laughter ceased.

"Wait, wait, wait!" Sean heard Claudia plead from behind him.

He pinned the offender against a tall dresser, tipping it back against the wall. Trinkets fell from its top and crashed to the floor.

"What the hell are you doing?" Sean snarled, ignoring the man's hands feebly tugging at his arm.

"Stop! He lives here!" Claudia shouted. "That's Dusty!"

"Dusty?" Sean's head pivoted toward her.

"He's my son. He's just . . . he has a different sense of humor than most people. He didn't mean any harm," she said. "He's one of them balloon enthusiasts, ya know? He gets carried away sometimes."

"A balloon what?" Sean softened his grip only a little.

"A balloon enthusiast." She spoke faster now, almost frantic. "People hire him for birthday parties and other shit. He makes animals, hats, and other things. Just stop it, okay? I think you're hurting him."
---
Getting Out of Dodge… Again
In the spirit of Colorado travel that I wrote about in last week's Daly Grind, my family and I decided to go on one more weekend outing before the weather turns quite a bit colder.
We rented a cottage in the Red Feather Lakes area (about 10 miles south of the Wyoming border), at a place called Phantom Lake Ranch. What we didn't realize when we chose the rental on Vrbo (weeks earlier, and primarily because dogs were allowed) was that the "ranch" the cottage sat on was 640 acres of secluded wilderness that included multiple mountain lakes.
And because it was the off-season, along with the fact that Red Feather Lakes had very recently been under evacuation restrictions due to the Cameron Peak Fire (which has since moved southeast), we had the entire place… to ourselves.
I'm not exaggerating. We literally didn't see another person the entire three days we were there.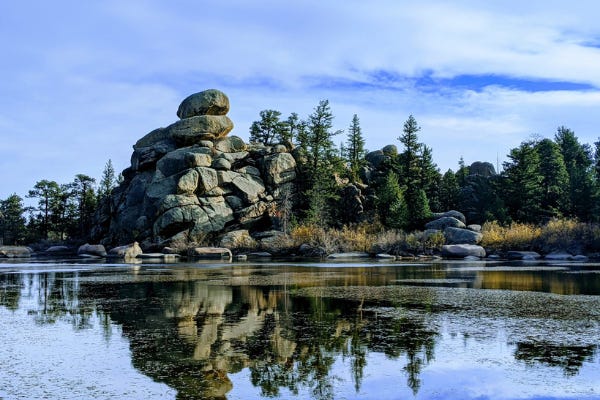 While the point of the trip was originally just to get away and relax a bit, we found ourselves doing a fair amount of hiking and exploring. While the lake just down the road from us (pictured above) was in itself a sight to behold, it was Phantom Lake, farther south on the property, that really blew us away: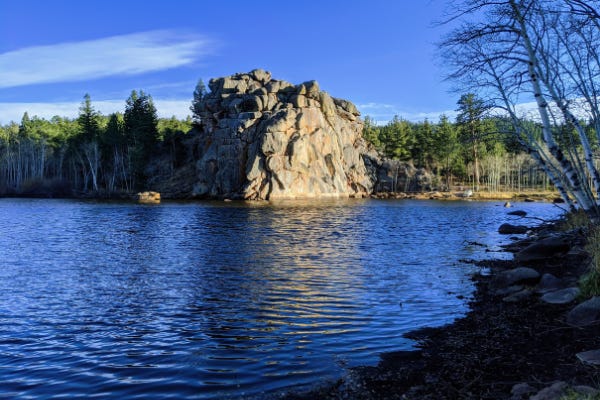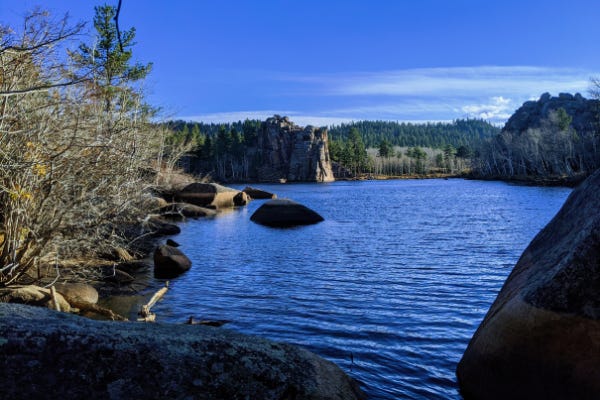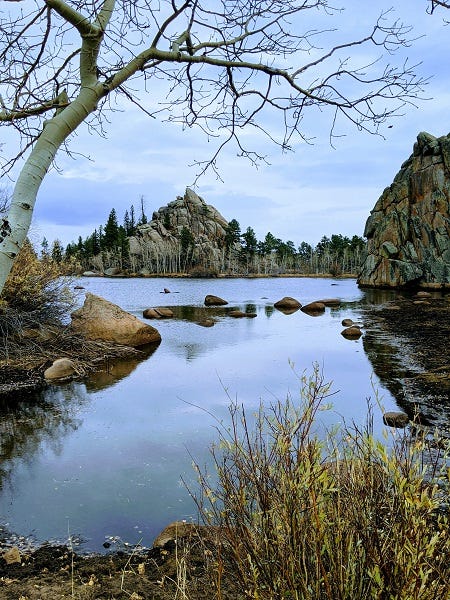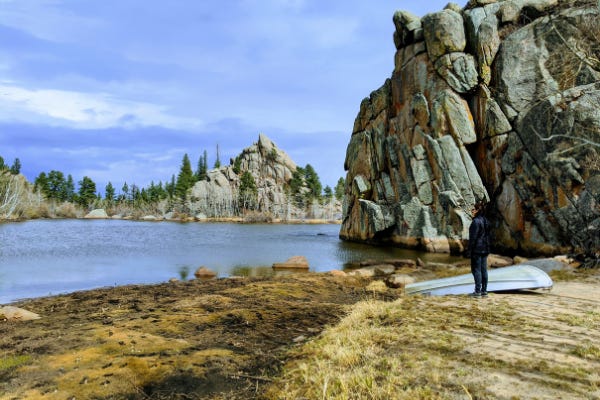 Since no one else was around, my wife and I really wanted to steal that rowboat in the picture above, and take it out on the lake. Unfortunately, we couldn't find any oars, and my wife wasn't particularly receptive to my suggestion that she swim behind the boat and kick.
By the way, another added benefit of being in the wilderness: it's always a solid backdrop for some dramatic glamor shots of Squiggy the Pitweenie.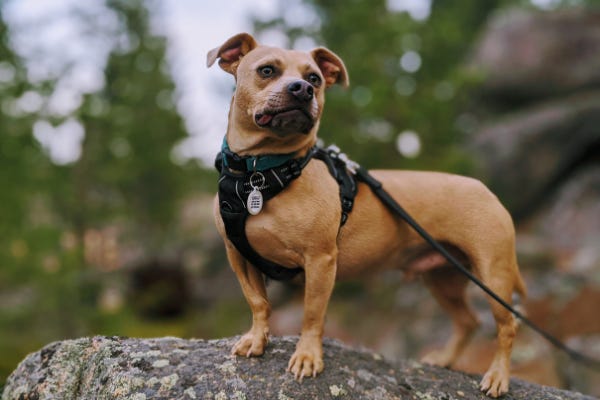 ---
A Television Favorite Returns
It was announced last week that the television show Dexter will be returning to Showtime next year for a 10-episode limited run. Michael C. Hall will reprise his role as the code-bound serial killer.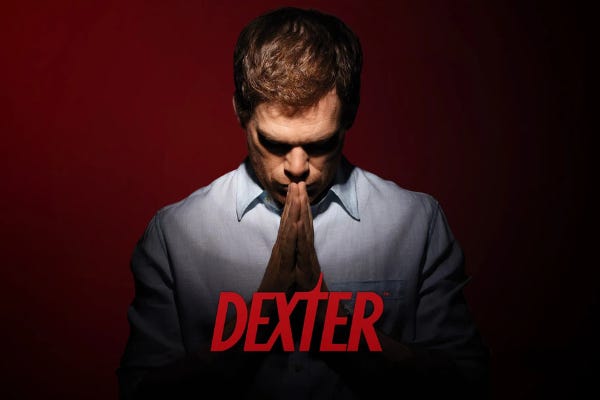 The timing of the announcement was ironic, because my wife and I have been re-watching the series on Netflix over the past several weeks. In fact, we're on the eighth and final season right now.
That previous sentence may draw some winces among even hardcore fans of the show, because many people consider Dexter's infamous series finale to rank among the most disappointing in television history. It was indeed pretty rough, but part of the reason viewers had such a strong, negative reaction to it was because of how high of a bar the series had set for itself.
The Dexter saga was wildly unique, engrossing television… the kind of which you didn't see a lot of at the time. It was special in the sense that writers managed to pull off a rather amazing feat: establishing a series around a serial killer protagonist who is strangely likeable, eerily sympathetic, and in some cases even morally just.
Truth be told, most series reboots end up being pretty bad, but I actually have high hopes for Dexter. From what I've read, the creators and cast understand just how badly they let their fans down with how things ended in 2013. I'm betting they're going to try very hard to make it up to them next year.
---
Random Thought
As someone who posts a lot of photos on social media, I'm sometimes asked why I post so few of myself. The answer is rather simple: my face.
---
Featured Vinyl
My appreciation for rock vocalist Paul Rodgers, whose music mostly predates my earliest days of radio listening, came from a phenomenon I'll refer to as regressive evolution.
Yes, I understand the phrase comes across as self-negating, but hear me out.
Rodgers is best known as the front-man for Bad Company, whose album "Holy Water" I fell in love with in the early 90s. But in the early 90s (and late 80s), Rodgers was no longer in the band. He'd left a few years earlier, with Brian Howe eventually taking over the role.
Howe was a great singer in his own right, providing vocals on some big hits like "No Smoke Without Fire," "Holy Water," and the power ballad, "If You Needed Somebody" (which was definitely one of those songs that spoke to my modest list of secret high school crushes).
Anyway, Howe's Bad Company (which would probably be described today as version 2.0 of the band) was the only Bad Company I really knew at the time. But I liked them so much that I began picking up their earlier stuff at the local music store… which led me to discover that Howe wasn't always the group's lead singer. It was Paul Rodgers who'd led the band to its initial stardom, which produced some truly iconic and infectious rock classics, like "Feel Like Makin' Love," "Shooting Star," "Ready for Love," and the conveniently named tune, "Bad Company."
Rodgers returned to the band several years later, and they still sound great together. In fact, I saw them at Red Rocks Amphitheater in 2016 (on a rainy but very fun night).
But Bad Company wasn't the only (or even the first) groundbreaking band that Rodgers fronted, as I was also to eventually discover. In the late 60s, he formed the group, Free, which brings us to today's featured vinyl.
Free's 1970 smash hit "All Right Now," is considered by many (including the creators of the "Raiding the Rock Vault" show in Vegas) to be the song that ushered in what we now recognize as the Classic Rock genre. I discovered a limited edition, two-record Canadian import of the band's greatest hits album, The Free Story, at a record store a few years ago. (And just between you and me, it was very far from "free.")
But it was worth it. Listening to this one is always a soulful rock experience.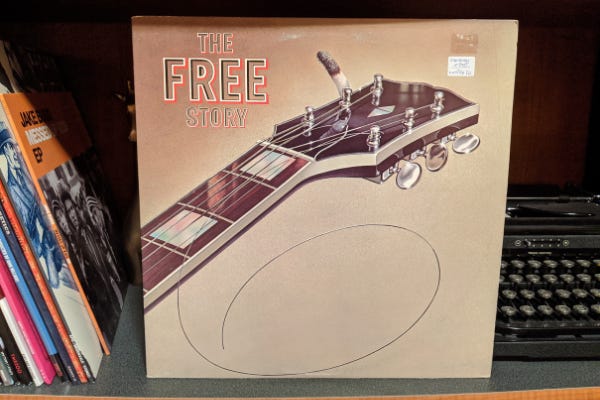 ---
That's all for now. Thanks for reading today's Daly Grind.
Want to drop me a line? You can email me at johndalybooks@hotmail.com. If you haven't subscribed to this newsletter yet, please click on the "Subscribe now" button below. Doing so will get these posts emailed directly to you.
Also, if you're not caught up on my Sean Coleman Thrillers, you can pick the entire series up at a great price on Amazon. And if you're interested in signed, personalized copies of my books, you can order them directly from my website.
Take care. And I'll talk to you soon!